LOOK FOR MOMENTS
Dec 23, 2022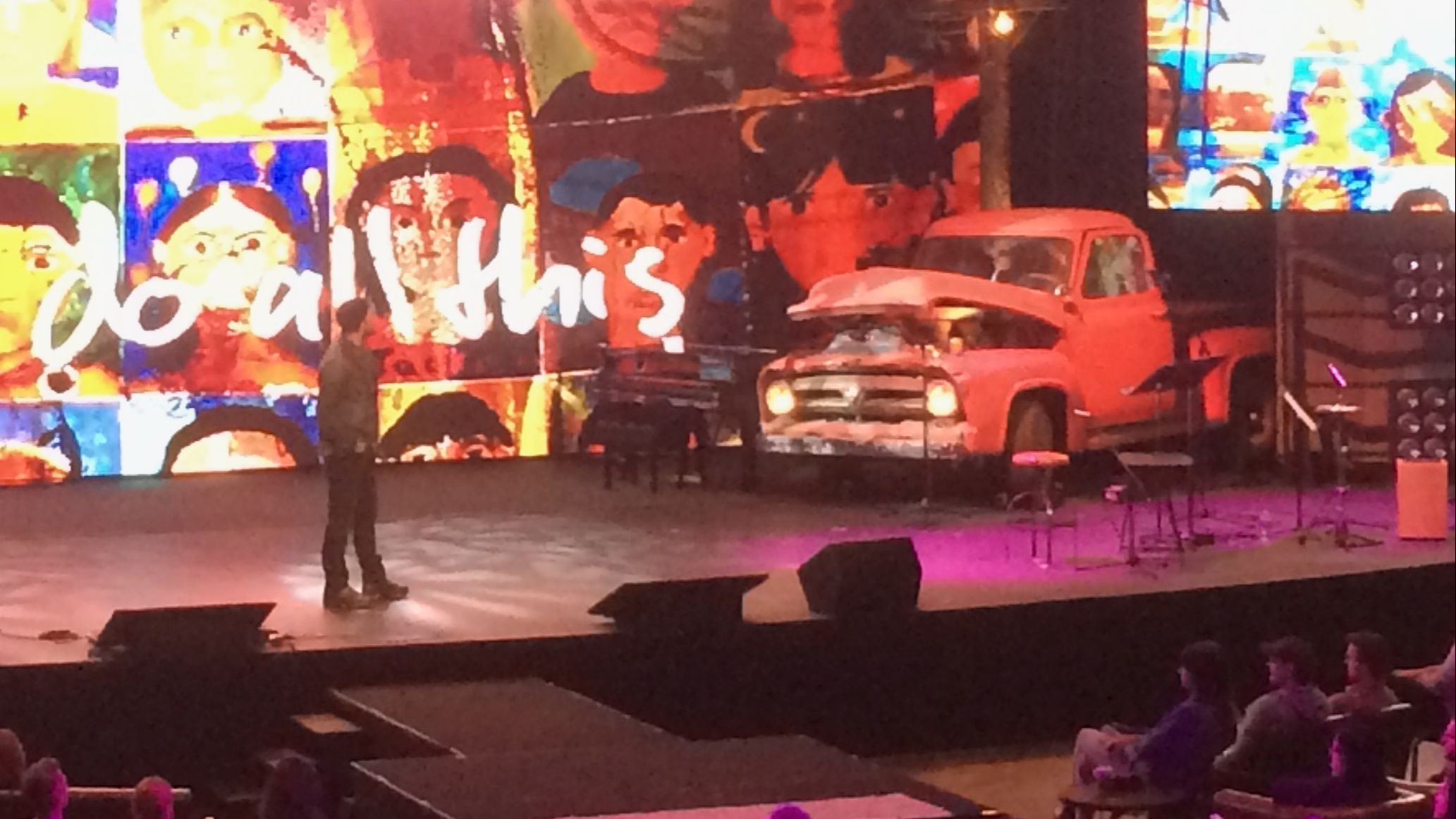 True stories are usually presented in three acts. They begin with a problem to solve, followed by a turning point in the middle, and a resolution of the problem at the end.
It's called a Story Arc. And every true story has one.
Not long ago, I attended the Story Conference in Nashville, Tennessee, where I met an extraordinary photographer named Jeremy Cowart. Jeremy (jeremycowart.com) has photographed the rich and famous, designed record covers for top artists, and created successful advertising campaigns.
But it wasn't always easy.
His story is a perfect example that no matter who you are or where you live, you can become anything you set your mind to become. Instead of giving a typical TedTalk, Jeremy played a video for the audience and added his live narration.
For the next 30 minutes everyone in the auditorium sat spell-bound watching this amazing story play on the big screens.
His video started with a PROBLEM…
Growing up in a small town outside Nashville, Tennessee, Jeremy didn't think he wasn't smart. He had trouble paying attention. Was a terrible listener. Made poor grades. And was just average. But in 7th Grade Jeremy discovered he could draw, so he started taking art seriously.
And something came alive inside him, whenever he would create.
When it came time for college all Jeremy knew was painting. That's when Jeremy's parents gave him some great advice..."It's going to be hard to make a living as a painter, they said. You should look into graphic design and computers". Reluctantly Jeremy jumped in to learn graphic design.
Which leads to the TURNING POINT…
Jeremy fell in love with Photoshop and decided to study graphic design in college. Four years later, he graduated and got a job at a high-end ad agency. But after a year his boss fired him and suggested he find another career.
Thankfully, Jeremy ignored his old boss and worked for a couple more ad agencies - until he realized that the ad agency world was boring. At the time, Jeremy had a few friends doing music. He knew how to design album covers and websites. So, he decided to work for his friends instead.
Ready for THE TWIST?
One day a friend said, "Hey, you should buy this new thing called a digital camera". So Jeremy went to the bookstore. Bought a book called, Digital Photography for Dummies. Purchased a 3 mega-pixel, Canon G-1 camera. And started shooting portraits of his musician friends for fun.
Big record labels started paying him to photograph their artists with his 3 mega-pixel camera! And Jeremy's career as a photographer took off.
Then one day...
He found himself competing against other photographers for a record label account. And, as luck would have it, Jeremy got the job. Beating out a well-known Hollywood agent's roster of celebrity photographers with his 3 megapixel camera!
So, the Hollywood agent calls Jeremy and says…"I'd like to represent you. Your work is amazing".
Now, here comes THE AFTER…
Within weeks of signing with the agent, Jeremy was shooting for TV networks like E! and FOX. And for music superstars like Sting - plus a bunch of other well-known artists. The average boy from Tennessee had gone from amateur photographer to celebrity photographer overnight.
Since then, Jeremy Cowart has photographed a very long list of celebrities. Published 4 photography books. Had his images displayed in dozens of major publications. And attracted over a million followers online. The Huffington Post has called Jeremy...The Most Influential Photographer On the Internet.
As I listened to his story that day, I realized Jeremy didn't start out with any special talents. Didn't know Influencers who could open doors or even own state-of-the-art gear. But what he did have was curiosity. A love for Photoshop. And a passion to create that set his work apart. Jeremy ignored the voices that told him to quit and rolled up his sleeves to became a craftsman.
Because Jeremy does great work. His story is great.
You know what? You could be the next Jeremy Cowart! You could create at a level that gets attention. But, you'll need to find your inspiration. And fall in love with the creative process.
Because, if you Do Great Work. People Will Find You.
Just like Jeremy Cowart.